Exploring The 2018 Tiguan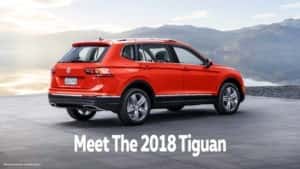 By now you've likely heard that Volkswagen will release the 2018 Tiguan later this summer. But what you likely haven't heard is all in the power that comes with the newest model.
The crossover comes with the most advanced version ever of Volkswagen's EA888 four-cylinder engine. The latest change centers on an innovative modification to the conventional four-stroke cycle. The benchmark EA888 four-cylinder, turbocharged and direct-injection engine will have an improved combination of power, efficiency, and responsiveness.
The Tiguan, according to test-drivers at Automobile Magazine, "rides like a dream." It glides over potholes with responsive but not overly jumpy breaks, making a drive down the highway or your driveway solidly smooth.
Power aside, the new Tiguan will be 10.7 inches longer than previous models – meaning more space. The vehicle will be equipped with three rows of seats – standard on the front-wheel-drive model and available as an added feature on the all-wheel-drive model. Drivers need not fear for lack of space, however, as they can expect a 58 percent increase in cargo space regardless.
The interior is designed with clean lines and is a definite step up from previous models. The materials were engineered to withstand the aging only a boisterous family can bring, making it stand out from other crossovers in its class.
Look for the Tiguans to hit the showroom soon. Stop by yourself to check out all the specs and go for a spin.